2013 Update:
I found the Sashay Arctic yarn on sale for $3.50 at Michaels. I thought this might make a good winter scarf for me.. it took 4 skeins! I think if I did this again I'd do just 3 stitches across instead of 5, and then 3 would be enough. My daughter thinks this is "a bit much", and I don't love it as much as I had hoped.. but it does look nice with my winter coat, so I'll see how I feel about it once it's actually cold here.
(Yarn price comparisons and coupons at the bottom of this post)
(the afghan folded under them is child sized, my own crochet pattern, with wool ease quick and thick yarn. By "my own pattern" I mean I am not good at all at following instructions, I would rather just make things up as I go along. This is not perfect, I must have miscounted one of the rows.. but overall it is cute and I like it. I put a ruffle around the edges, and a flower in the middle..)
This is the video I started with, to learn how:
How to Knit a Sashay Scarf
http://www.youtube.com/watch?v=lVA4OjNAIjc
After a few minutes though, I switched to crochet. It is faster and easier for me.
The first scarf I completed was in Sashay yarn. it is the 5th one over on the photo, and it took me 1.5 skeins to get it long enough for me. I am 6 ft tall, and often need scarves to be a few inches longer than normal. I also used 6 stitches for this scarf, and in later scarves I went to 5, and then 4 stitches. With 4 stitches across, the length from one skein is pretty good for me.
The second scarf from the left (blues) and the one on the far right are made with Starbella. Starbella is a much looser weave, the holes are farther apart and the finished scarf is much lighter, not nearly as dense. I typically do 5 stitches across with the Starbella, and it makes a great length. The Starbella is $2 more per a skein, at our local Michaels, on sale.
The black and silver scarf (second from the right) is Starbella Flash. I originally started this scarf in the "normal" way, but I did not like it at all.. so I switched this one up and instead I crocheted one long chain, a little longer than I wanted the finished scarf to be. Then I single crocheted two additional rows. I really like how this turned out, and it was super fast to make! There is enough yarn left that I am pretty sure I can complete a second scarf, from one skein. I have a skein of this in white with gold flash as well, but I may make that one in rows of 4-5 stitches instead of the long way, I have not decided yet.
Meg quickly decided she would like a skirt made out of the ruffles from this yarn, and a quick internet search showed she was not the first to have this idea. I'm going to see what we can come up with, I have some black satin material that would line this nicely... or maybe we'll make the skirt, then just add the ruffle at the bottom?
UPDATED
Starbella also has a "stripes" line, that can be difficult to find, but is great for sports teams! The black and gold makes a great Steelers scarf, if you can find it.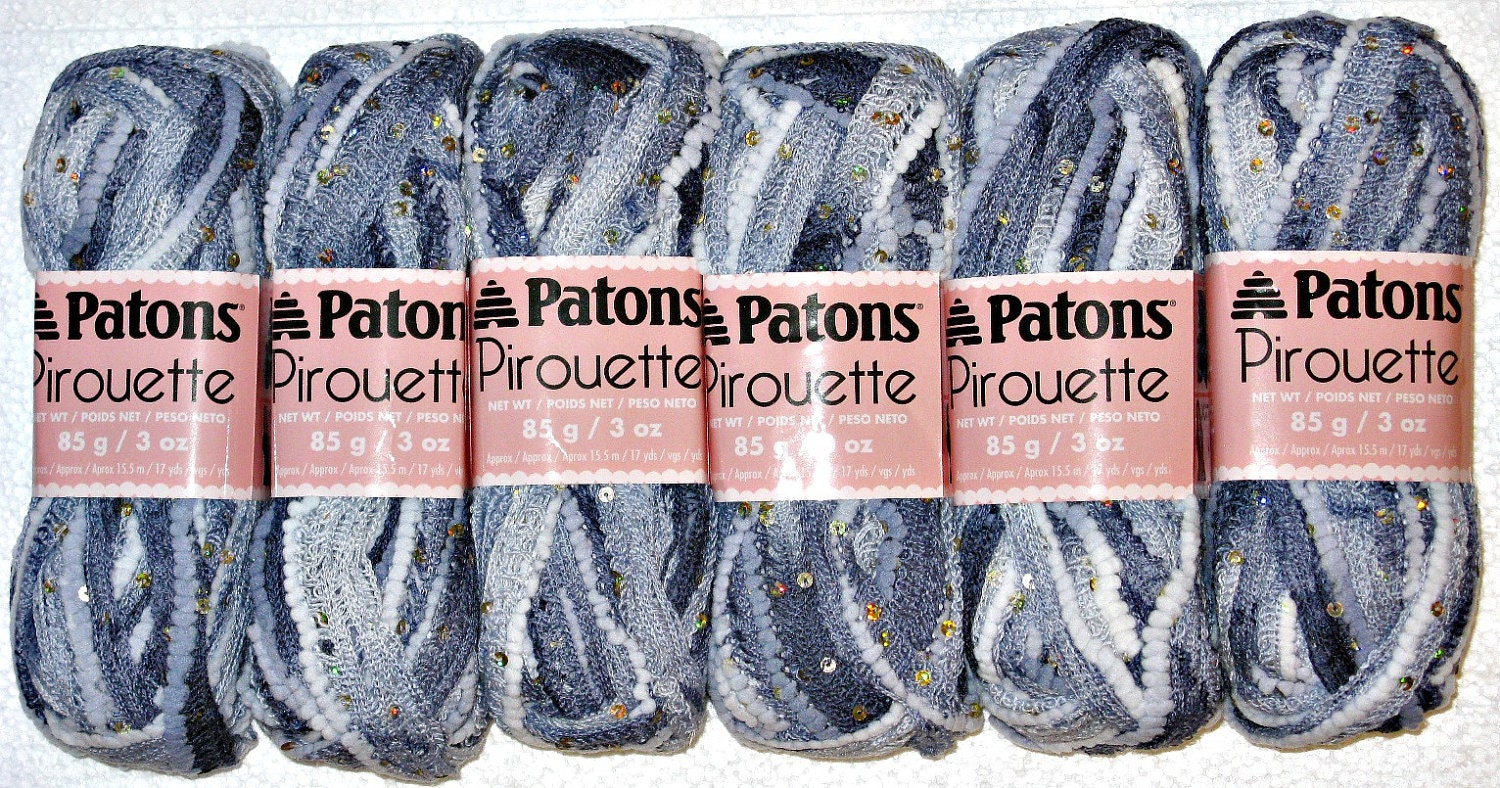 The Paton Pirouette is a PRETTY yarn. It has a chenille bottom, and sparkles in it. I have a scarf half finished in this color above, and it is the prettiest scarf yet.. but one skein made half a scarf. Barely half - even if I was shorter it wouldn't have made a full scarf. I tried working in the chain form like I did with the starbella flash, and I decided I liked the shorter row method better with this, and that it would be worth buying 2 skeins. This was the most expensive of the yarns, but like all the others, it goes on sale at stores where you can use coupons. :-)
A close up of a scarf I made with the Paton yarn. Expensive, but one of my favorites.
Arctic yarn. One skein made about 18 inches long at 5 stitches across. The finished scarf is much heavier than it looks here.
Prices & Coupons
Both Michaels & Jo-Anns have apps for smartphones, with the coupons right in them. Pull up the app, choose your coupon, the clerk will scan it. I LOVE this!!! Both of them, in the last week, have had coupons that work on sale items. Michaels had 25% off your total purchase (I got 5 skeins of yarn for $18 with that one) and JoAnn's had $5 off $25, $10 off $50, and $15 off $75.
Both of them, as well as AC Moore, have coupons that you can print from their websites as well.
JoAnns is the most expensive for these yarns, even with sales.
Michaels is cheaper than JoAnns, but more expensive than AC Moore.
Ac Moore is the cheapest when the yarns are on sale, but their coupons are not as good, and they do not have an app, so I do not always have a coupon with me, like at the other two stores.
more scarves