"In my experience, tranquil and simple are two things farming is not. Nor is it lucrative, stable, safe, or easy. Sometimes the work is enough to make you weep. But most days I wake up grateful that I found it - tripped over it, really - and that I'm married to someone who feels the same way."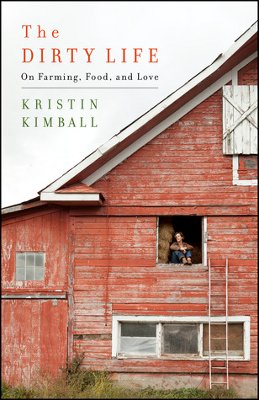 This book had been on my to read list for awhile, but when Walden Effect chose it as the book club selection, I finally bought it and read it.
There is a lot about this book that makes me nuts. The decision to put 18,000 (their entire savings) into a farm they didn't even own, nor have any guarantee they would be able to use beyond the first year, baffled me. The constant surge of people giving them things, loaning them things, and in general helping them was so unreal, I couldn't imagine it. We've always known our local farmers to be generous, but the amount of help they received was just mind boggling. I was puzzled by all the friends that came to visit - where did they stay, in a house with no furniture? I was also inspired by that too - we have so much drop in company around here, I should put them to work when they drop in...
Then there were parts of the book that I just related to so much. A few of my favorite quotes:
"A farm is a manipulative creature. There is no such thing as finished. Work comes in a stream and has no end. There are only the things that must be done now and the things that can be done later. The threat the farm has got on you, the one that keeps you running from can until can't is this: do it now, or some living thing will wilt or suffer or die. It's blackmail really."
"Farmers toil. Nature laughs. Farmers weep. there's your history of agriculture in a nutshell."
"It's never the way you think it will be, Mark used to tell me. Not as perfect as you hope or as scary as you fear."
"A man we know bought up a big piece of good land nearby, a second home, and once, at dinner, I heard him say, 'In my retirement I want to be a simple farmer. I want.. tranquility.' What you really want is a garden, I thought to myself. A very, very small one."
It's a great book. Parts of it drove me nuts, it was just so irrational! (and yet they made it work!) Parts of it made me cry, having experienced dead calves, and the death of my horse, too. Parts of it made me laugh. All of it made me feel lazy, I do not work anywhere near that hard on our farm, and I have to wonder what I could do if I worked just 1/4 as hard around here.
I was disappointed to see that I cannot loan this book out through Amazon. :-( I don't like paying full price for ebooks and then not being able to share them when I am done.