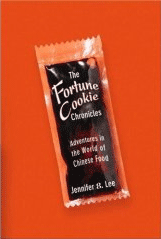 This book, so far in 2010, is the best book I have read this year. It's a fun read, informative, and the sort of book where you learn all sorts of things from the tangents of the book. It was a fun read, and educational to boot!
From The Books Blog
Book
There are more Chinese restaurants in America than McDonalds, Burger Kings, and Wendys
combined
.
The Fortune Cookie Chronicles
(March 2008 from
Twelve Books
) is for anyone who has ever wondered who is General Tso and why are we eating his chicken; why Jews eat Chinese food on Christmas; and who really invented the fortune cookie. New York Times reporter,
Jennifer 8. Lee
, solves enduring
mysteries
of Chinese cuisine through a mix of in-depth research and entertaining personal anecdotes.