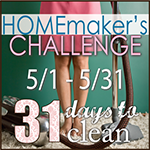 I just downloaded my book, and am signing up for the challenge. :-) The book is available as a mobi file for kindle, or a pdf file. I chose to download the pdf file, and I am converting it to epub using calibre. I'll then use the Aldko app on my android phone to read it, that is my preferred method for reading ebooks.
Although I keep a fairly clean home most of the time (considering there is a goat in my laundry room, and we have 4 teenagers, on a farm...), I have been slacking a lot this year. I've left my cleaning routines slide, and I didn't really do much spring cleaning at all.. I'm hoping this study will help me get back on track, and renew my motivation.
Here's how the challenge will work:
Read the chapters each day that week

. Highlight, take notes, do what you have to do to

engage the material

. Don't just read it. Really allow it to change you. Journal, pray, look up scriptures.

Write a post

(or more, if you like) sharing your most challenging chapter for that week and give us a personal glimpse as to why you struggle in this area. Don't worry! We all have an area of struggle, so we will all be sharing! Share what you need that could help you in that area. I will be posting a struggle, but also some extra solutions to accompany what Sarah Mae has offered. If you feel compelled, why not also share something that comes easily for you? Perhaps you could offer tips to others who may be struggling?

Use the button in your post

so that others can find their way back in case they would like to join us. The more the merrier! I have changed the code so it brings you to the list of "31 Days to Clean" posts. You can find the button in my sidebar.

Link up your post(s) on Friday

, beginning May 6th . It doesn't matter what day you choose to write your post, you can still link it up on Friday.
Sample Day from the book -